Algerian Toasted Almond Cake (Qalb-Allouz)
Qalb Allouz is a staple dessert in Algeria during Ramadan. It is as much of a staple as shourba and bourak. It's a sweet, happiness in every bite kinda of treat. Qalb Allouz literally translates to the heart of almonds which some say refers to the almond that adorns the middle of each slice or the ground almond layer that is sometimes added. There are so many variations and ways of making this dessert and it's very difficult to get it just right. I've tried several different methods and have failed miserably. Some people swear by letting the semolina mix rest overnight before baking as the key step, while others mention the quality of semolina, or the type of fat that is used be it butter, oil, or shortening. I definitely was not team let the semolina rest overnight, because I'm not waiting two nights to eat a dessert. Neither am I a fan of using shortening. After several trials, I've found something that works and tastes like the Qalb Allouz found in all the bakeries in Algeria during the month of Ramadan. Give it a try!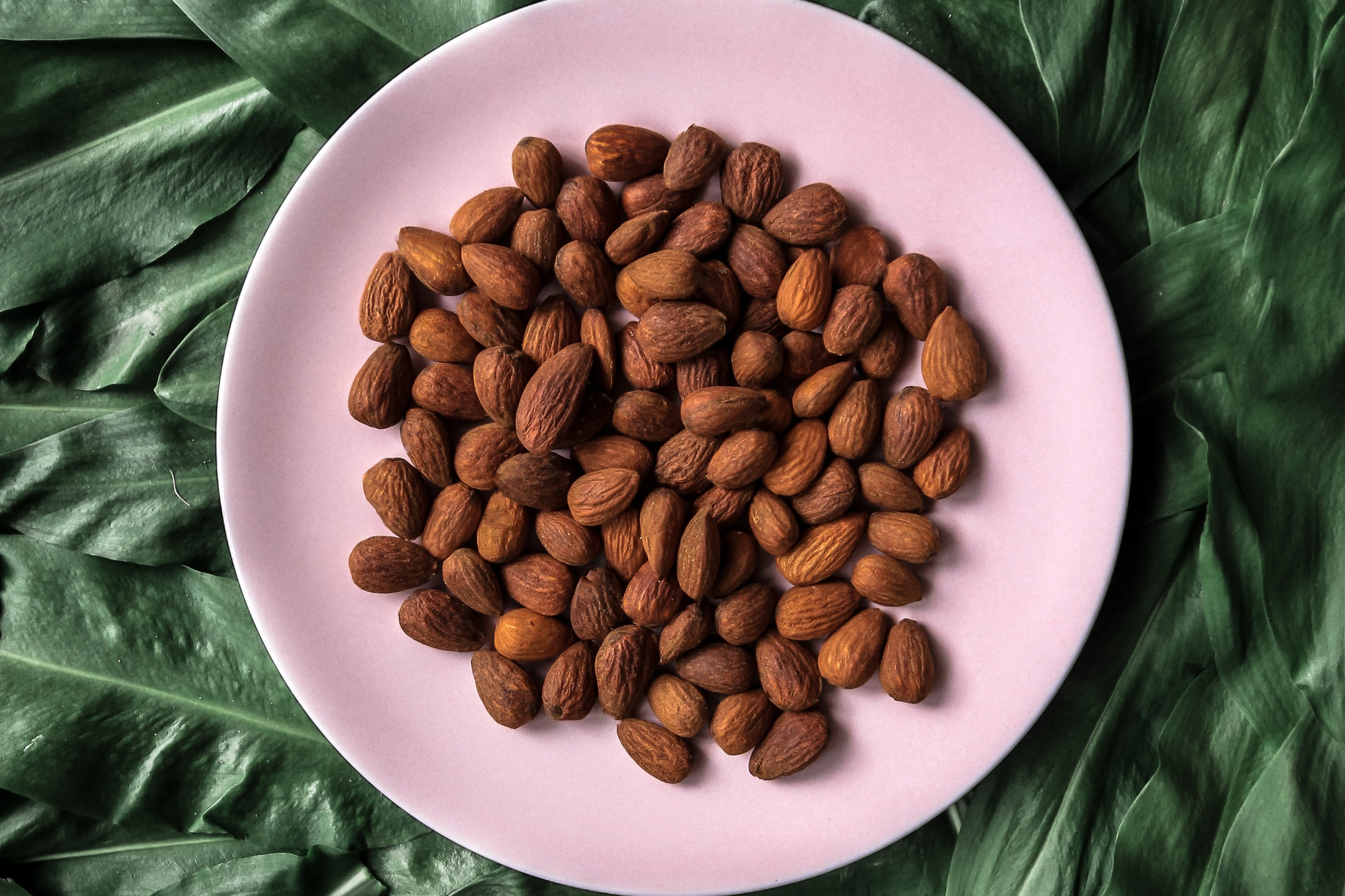 Peanuts and Almonds are the preferred Algerian nuts. These seeds which are native to the mediterranean appear in both sweet and savory dishes.
Algerian Almond Cake

This almond cake has to be soaked overnight. The syrup used to soak it has to be added while the cake is hot (straight out of the oven). The syrup must be cold or at room temperature. Store the soaked cake at room temperature for up to 2 days or in the refregirator for 6.

by Sakina | May 2019

Prep time: 15 minutes
Cook time: 30 minutes
Inactive time: 12 hours
Total time: 45 minutes

Servings: 12

Ingredients:

Syrup

3 cups water
1 ½ cup sugar
¼ cup orange blossom water

Cake

3 and 1/3 cups coarse semolina
1 teaspoon baking powder
1 1/2 cup sugar
1/2 cup oil
1/4 cup orange blossom water
1/2 cup plain yogurt *
1 cup ground almonds
1 teaspoon cinnamon
12 almond blanched (see note)

Instructions:

Syrup

In a small saucepan mix water and sugar and bring to a boil. Once boiling, cook for 10 minute. Scrape down any sugar that clings to the sides before it browns and stir the liquid. Remove from stove top and add orange blossom water. Set aside to cool.

Cake

In a large bowl mix semolina, baking powder, and sugar.
In another bowl mix oil, orange blossom water, and yogurt.
Slowly add wet ingredients into the dry ingredients and mix using fingertips. Do not knead the semolina and mix only until all semolina is wet. This mix will be a wet crumble, not a dough. Set aside.
In a small bowl mix ground almonds and cinnamon for the filling.
Grease a 9x13 inch pan.
Divide the semolina mixture in half. Place one half directly on the pan. Spread using your fingertips and then use the back of a spoon to get an even layer.
Sprinkle the ground almond mixture on top.
Add the rest of the semolina mix on top of the ground almond slowly and evenly. Use the back of a spoon again to get an even top layer. You can dip the spoon in water or oil to make it easier to glide over the semolina and help push it into place.
Cut the almond cake into 12 even pieces, only cutting about ¾ of a way through.
Place a blanched almond flatly in the middle of each piece.
Let the almond cake rest for 20 minutes. A
Adjust the rack to the middle position, and preheat the oven to 400F.
Bake the almond cake for 20 minutes or until sides are golden brown. Switch the oven to broil so the top of the cake browns all over, 6-10 minutes.
Take the cake out of the oven and immediatly and slowly pour the cold syrup on it. Pour it in stages, allowing the cake to absorb it before adding more.
Allow the almond cake to sit for overnight to fully absorb the syrup before cutting and serving. It's worth the wait!
Cut and serve at room temperature. Enjoy with a cup of tea.

Notes:

To blanch almonds, add 14 almonds to boiling water for 10 minutes or until the skin slides off when you press against it (test one almond). Remove from the heat, drain, and let the almonds cool for 5 minutes. Rub the almonds between your finger tips or two towels until the skin comes off. Place on a dry towel or paper towel and let the almonds dry.
Troubleshoot: if you forget to soak with syrup immediatly, the cake will harden. If that happens, place your cake back in the oven at 350F for 10 minutes. Take it out and soak it with syrup.

Denotes items that we prefer to be organic. Read more about it here: Items to buy organic when grocery shopping.