Megan's Pie Dough
Many times, I take shortcuts in the kitchen. There are only so many hours in the day, only so much energy to go around, so many other things that need my attention. But when there is time, I love to make pie dough from scratch. It is an empowering and satisfying feeling to start with basic ingredients and use my hands to create something entirely different. It is a great dough to make ahead of time and works great for pies, galettes, and hand pies.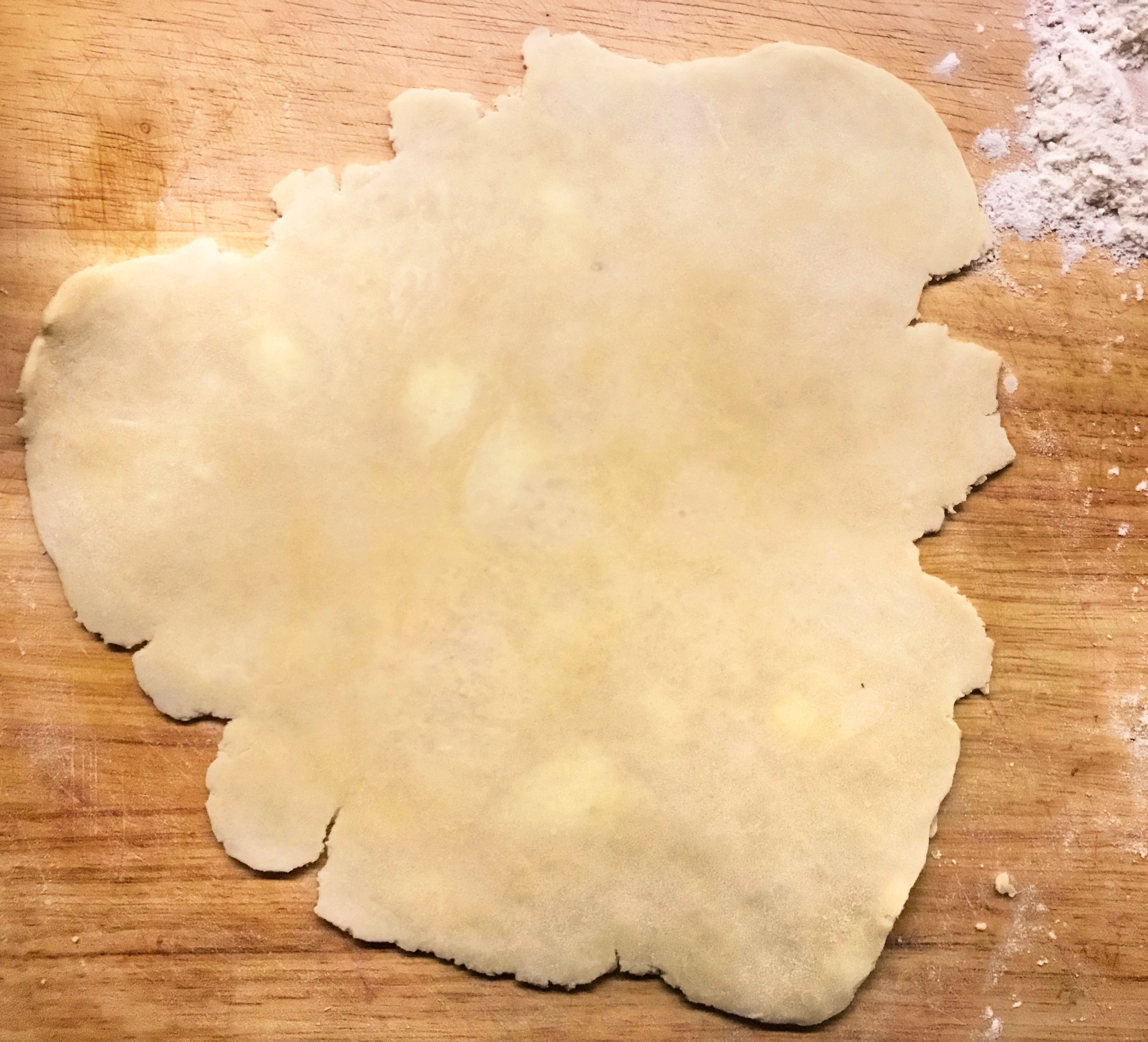 Pie Dough

Makes enough dough for 1 double crust pie or two bottom crust pies

by Megan | May 2019

Prep time: 10 minutes
Cook time: 0 minutes
Inactive time: 2 hours
Total time: 2 hours 10 minutes

Servings: NA

Ingredients:

2 ½ cups all-purpose flour
2 teaspoons sugar
2 ½ sticks (1¼ cups) salted butter, cut into small cubes, chilled *
1 tablespoon apple cider vinegar
¼ cup ice water

Instructions:

DIRECTIONS

In a large bowl, mix together the flour and sugar. Remove the cold, cubed butter from the fridge and add it to the bowl.
Use your fingers to smush and spread the butter while mixing it with the flour. You are trying to create thin and flaky pieces of butter. If your fingers get tired, you are doing it right. Mix and smush until there are no large chunks of butter remaining.
Combine the vinegar and ice water in a measuring cup with a spout. Drizzle over the flour and butter mixture, leaving the ice cubes behind.
Comb your fingers through the mixture to evenly distribute the liquid. Continue until the mixture starts to come together in a shaggy dough. Pour mixture out onto a lightly floured cutting board.
Knead on the board a few times to incorporate the dry bits of flour that may have gotten stuck to the bottom of the bowl. Knead a few more times until it all comes together.
Divide the mixture into two 1-inch thick disks and wrap tightly in plastic wrap.
Refrigerate for at least two hours, up to 4 days. Let sit out at room temperature for 5 minutes before rolling out.

Notes:

I am a big fan of baking with salted butter. But if that isn't for you, use unsalted butter and add 1 teaspoon of kosher salt in with the flour and sugar.
Making pie dough is all about feel. If the dough feels too dry, add an extra teaspoon of water. If it's too sticky, add a light dusting of flour.
If you know what the intended use of the dough is, divide it into that many pieces before chilling. Ex. If you are going to be making 4 galettes, divide the dough into four portions then wrap and chill. It will be easier to roll the dough out into a basic circle if it is already portioned that way.
This pie dough can be made ahead and frozen for up to 1 month.

Denotes items that we prefer to be organic. Read more about it here: Items to buy organic when grocery shopping.