Potato and Spring Garlic Soup
The mild flavor of spring garlic, also known as green garlic, make it the ideal companion to this creamy potato soup.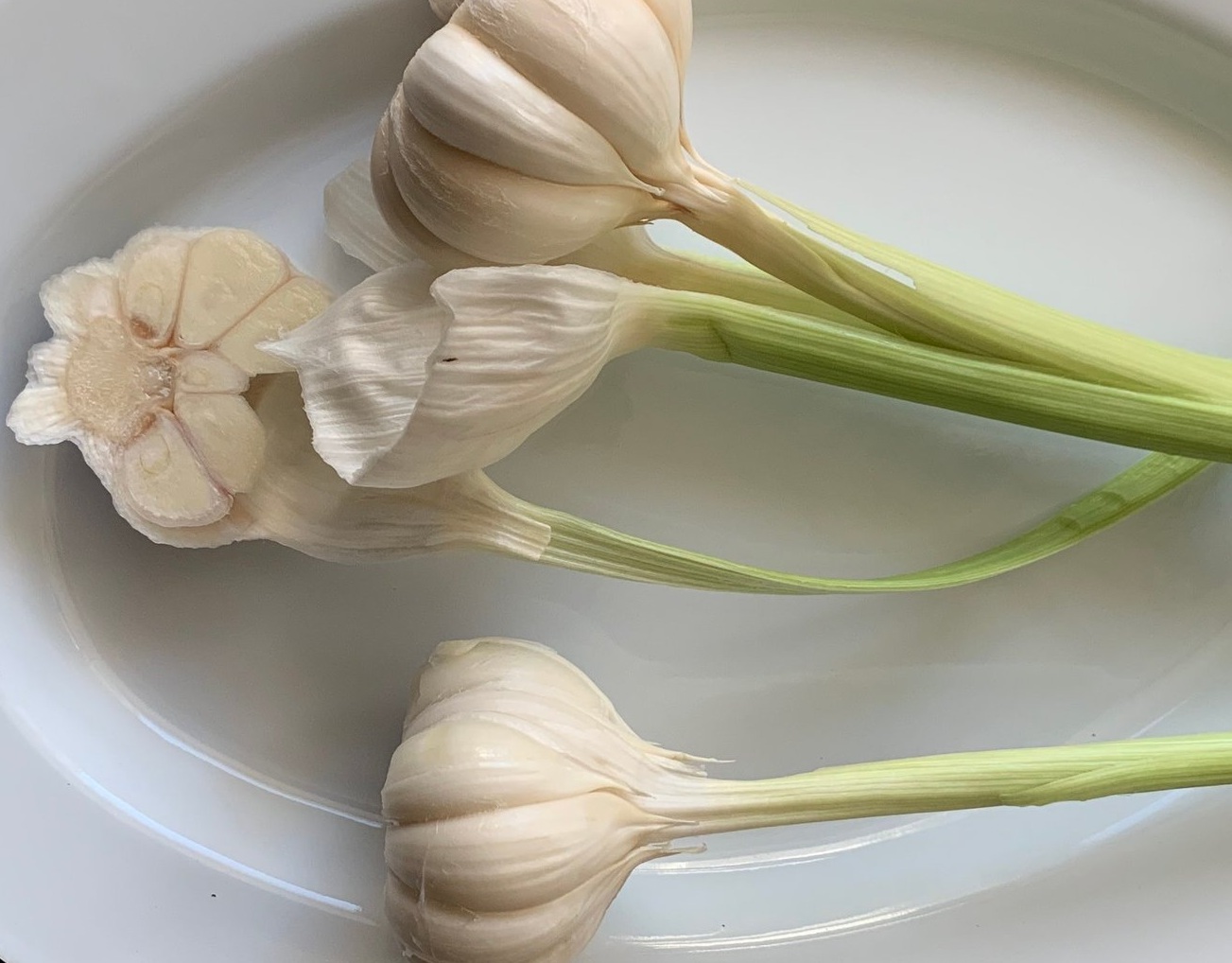 Green garlic is younger garlic that can be handled exactly like more mature garlic. Its flavor is not as strong, so using it raw is ideal.
Potato and Green Garlic Soup

by Soumeya | May 2019

Prep time: 30 minutes
Cook time: 50 minutes
Inactive time: 0 minutes
Total time: 1 hour, 20 minutes

Servings: 2

Ingredients:

3 green garlic heads, peeled
8 tablespoons olive oil
3 medium russet potatoes, boiled to softness and peeled *
3 cups cashew or goat milk
1 teaspoon salt and more to taste
1 teaspoon white pepper powder
Black pepper to serve

Instructions:

Take 6 garlic cloves and slice each into 2-3 pieces length wise. Set the garlic slices aside.
Crush the remaining garlic using your hand heel against the broad side of a knife.
Heat 4 tablespoons of the olive oil in a saucepan until shimmering. Add the garlic and fry until golden brown.
Cut the potatoes into small pieces.
Add the potatoes and continue sauteing, scraping the bottom so the brown bits don't burn, 5 minutes.
Add the goat milk, salt and pepper. Bring to simmer and stir occasionally, 10 minutes.
Using a hand blender, cream the mixture until there are no large lumps and the soup is a creamy mixture, small pieces are ok.
Let the soup simmer until it reduces to the desired consistency, 15-25 minutes.
Add salt and pepper to taste.
In a small frying pan, heat the remaining 4 tablespoons of olive oil. Fry the garlic slices that we set aside in the beginning until they are golden brown, 6 minutes. Take off the heat and let the garlic and olive oil come to room temperature.
To serve, place the hot potato soup in a bowl, place the fried garlic slices on top of the soup and drizzle with the olive oil from the fried garlic.

Notes:

If you can't find green garlic, use regular garlic but cut the quantity in half.

Denotes items that we prefer to be organic. Read more about it here: Items to buy organic when grocery shopping.