Spring Salmon Tostadas with Labneh
Mistakes happen in my kitchen. Like, all the time. All too often, mistakes result in starting from scratch, or tossing it in our dog Rusty's bowl. But sometimes, mistakes in the kitchen turn into something magical. This was one of those times.
I was attempting to make tuna cakes out of a Keto Diet cookbook. In the mindset of avoiding carbs, I completely forgot to add the small amount of flour required to actually hold the cakes together. As soon as the fish hit in pan, everything fell apart. Annoyed with myself, I walked away and let the tuna chunks continue to cook in the hot pan. After a minute or so, I flipped over a chunk of tuna and saw a beautifully brown and crispy crust on the bottom. Elated with what was happening in the pan, I flipped over all the pieces and let them cook another minute. What was intended to be pan-fried fish cakes, turned out completely different, and delicious.
Since that faithful mistake, I've cooked fish this way so many times. Mayonnaise is used in restaurants to get a crispy crust on grilled cheese sandwiches, and it serves that same purpose with the fish. This technique can be used for any fatty fish – tuna, salmon or swordfish. It's a great way to prepare fish for tacos, to serve over rice, or to use on these tostadas.
Another technique I often use in my kitchen is the "quickle." I toss some thinly sliced veggies in a bowl with vinegar and a sprinkle of sugar and let then sit while I prepare the rest of the meal. These quick pickles are a great way to add a bright, crunchy and sharp bite to salads, tacos, and pastas.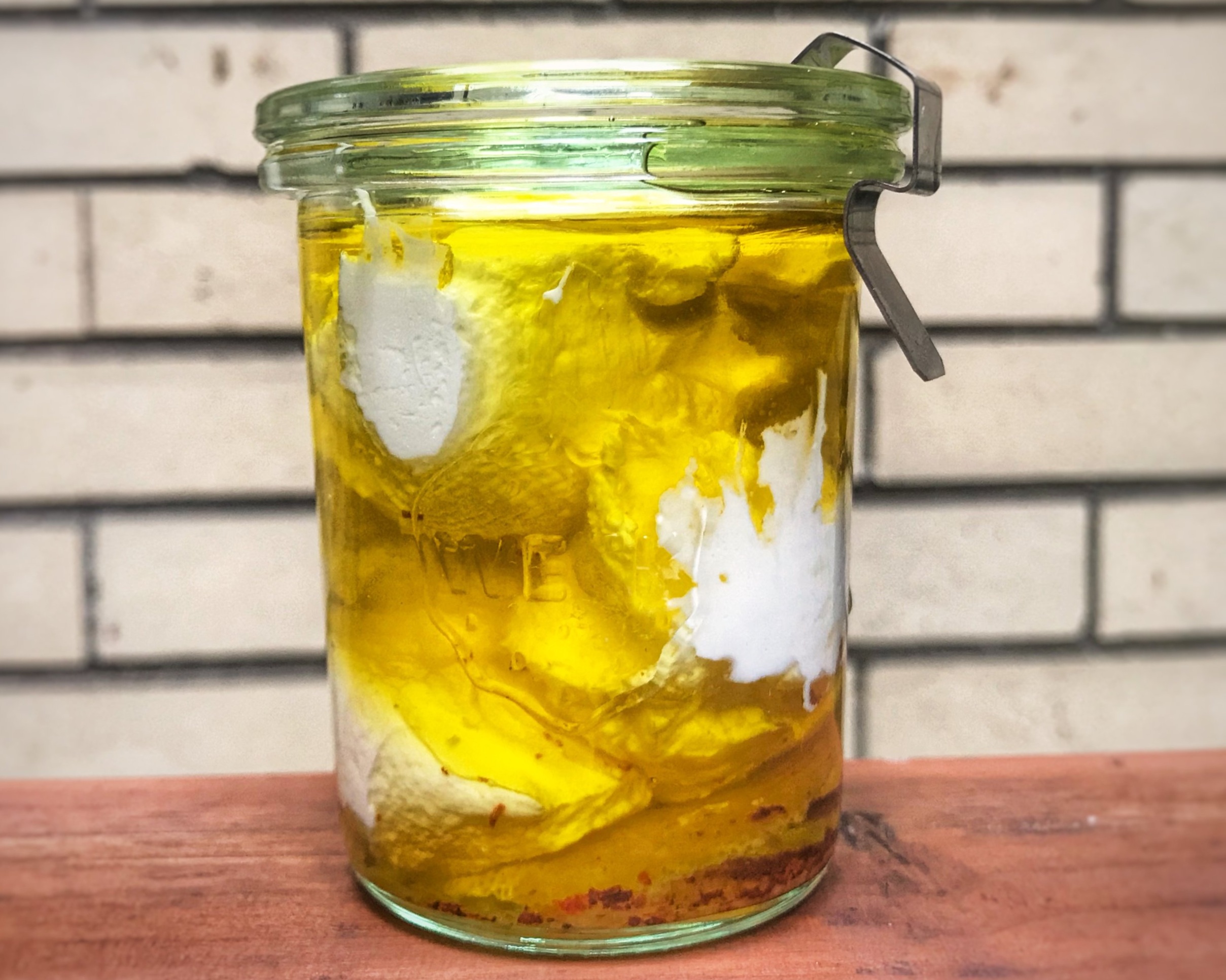 Labneh is a Middle-Eastern soft and creamy cheese made from strained yogurt. You can purchase it at specialty stores, but it's also super easy to make at home. Stir in a sprinkle of salt into a 6 oz. container of yogurt and let strain in cheese cloth over a bowl for 24-48 hours in the fridge. Gently roll into balls and keep in a jar of infused olive oil (lemon zest, herbs, spices, garlic, chili peppers, etc.)
Spring Salmon Tostadas with Labneh

by Megan | May 2019

Prep time: 10 minutes
Cook time: 5 minutes
Inactive time: 0 minutes
Total time: 15 minutes

Servings: 4

Ingredients:

Snap Pea Quickles

10 snap peas, thinly sliced on a bias
1 small shallot, thinly sliced
Pinch of granulated sugar
Splash of vinegar – apple cider, sherry or distilled white

Salmon Tosadas

½ pound salmon filet, skin removed
2 tablespoons mayonnaise *
1 tablespoon Sriracha or your favorite hot sauce
Splash soy sauce
1 tablespoons olive oil
4 tostadas shells
¼ cup labneh *
Sliced radishes and more Sriracha for garnish
Watercress for garnish
Infused or flavored olive oil to drizzle (see note)

Instructions:

In a small bowl, combine the sliced snap peas, shallots, a sprinkle of sugar and a healthy splash of vinegar. Stir together and let sit while you prepare the rest of the tostadas. Toss a few times throughout the rest of the prep.
Cut the salmon into ½ inch cubes.
In a medium mixing bowl, whisk together the mayonnaise, Sriracha, a splash of soy sauce.
Add the salmon and gently mix together.
Drizzle olive oil in a large skillet and set over medium high heat. Add the salmon cubes to the pan and let cook for 2 minutes, undisturbed.
Gently flip over and cook on the opposite side for an additional minute, until a brown crust forms on two sides.
Spread the labneh on the tostada shells and top each one with the crispy salmon.
Remove the peas and shallots from the vinegar and sprinkle on top of each tostada.
Drizzle with Sriracha and sliced radishes and serve.

Notes:

You can "quickle" any vegetable you could also eat raw – onions, cucumbers, peas, celery, asparagus, radishes.
You just need enough vinegar to almost cover the vegetables. Add some water if you think you need more liquid.

Denotes items that we prefer to be organic. Read more about it here: Items to buy organic when grocery shopping.