Dried Fruit Algerian Tagine (Tagine Alh'luw)
My favorite part of Tagine Alh'luw are the dried fruits flavored with cinnamon and orange blossoms and sprinkled with crunchy almonds. Unlike other dishes, the browned meat takes a secondary role and is more of a flavor enhancer than the star of the dish. Cooking the tagine low and slow allows every ingredient to develop its own layers of flavor. This is key to achieving the final result: a rich and thick stew that is light and filling.
In Algeria, Tagine Alh'luw is made for special occasions and is served as a second or third course. It is often served with marzipan that has been cut into shapes.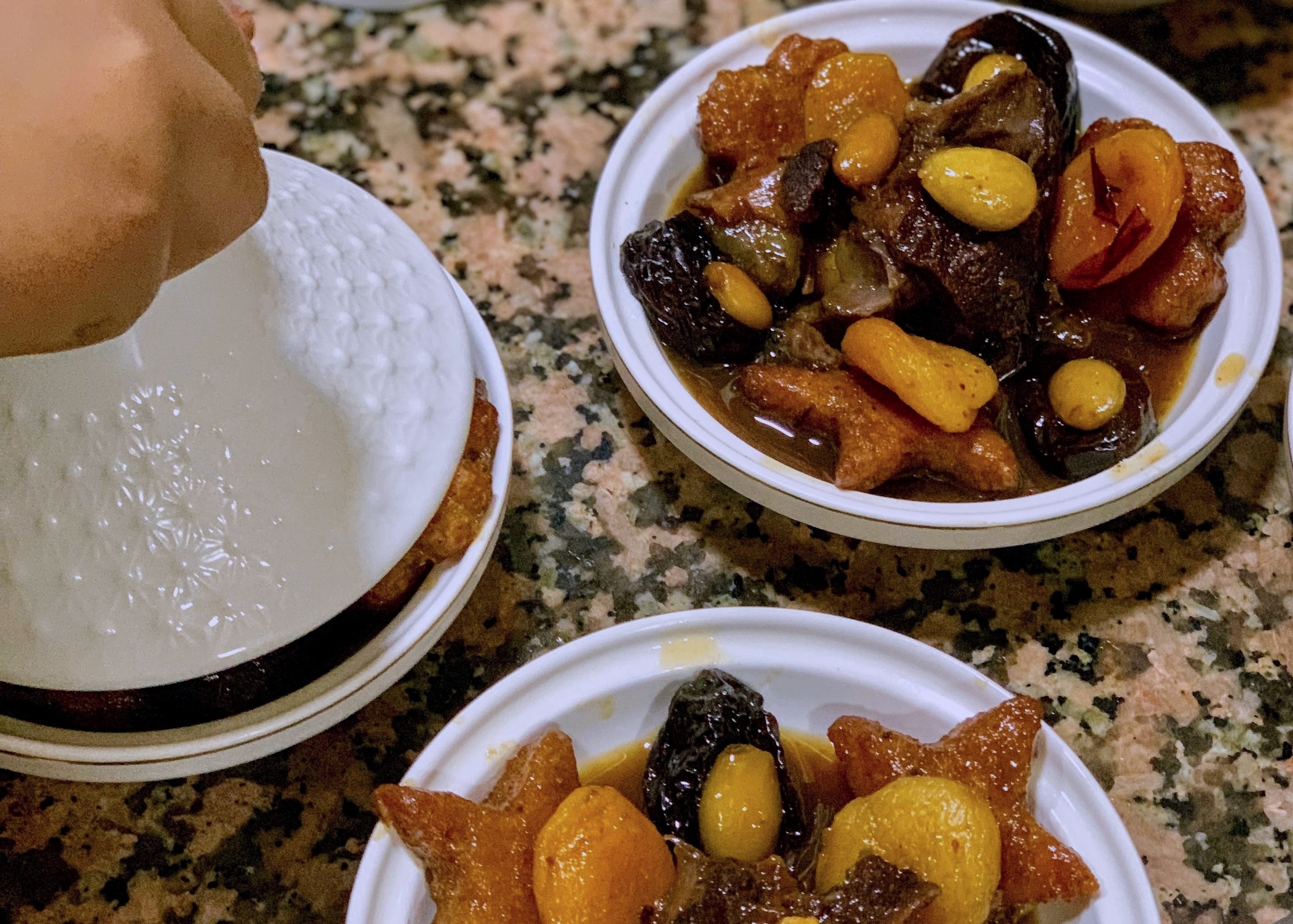 this picture was taken in an Algerian kitchen in 2018. The tagine was prepared as part of a goodbye dinner for an honored guest and a loved one. One more gesture amongst many of the love of an aunt towards her niece.
Ingredients
Only use dried fruits that do not contain sulphur dioxide. Sulphur dioxide in gas form is deadly. Organic dried fruits do not contain sulphur dioxide. The color of the fruits might be darker, but why add chemicals that you don't need?
Dried Fruit Tagine Alhluw

Make sure to brown your meat and scrape the fond to mix it into the stew. The thicker and more syrupy the stew is, the better. If you decide to use other dried fruits then make sure to group them based on texture and softness. The hard, more fiberous ones go early, the soft ones go in later.

by The Lore | April 2019

Prep time: 10 minutes
Cook time: 1 hour 40 minutes
Inactive time: 0 minutes
Total time: 1 hour 50 minutes

Servings: 4

Ingredients:

1 pound beef stew meat*
1 tablespoon butter or ghee*
1 cinnamon stick
1 cup dried prunes*
1 cup dried apricots*
½ cup dried sour cherries*
½ cup sultana golden raisins*
1 green apple*
1 cup sugar
1 and ½ cups water
½ cup orange blossom water
Toasted almonds to serve*

Instructions:

In a medium sized tagine or heavy bottomed pan, melt the butter over medium heat.
Add the beef and sear on all sides.
Add one cup of water and a stick of cinnamon. Mix and scrape the bottom. Cover the pot and allow the meat to cook until tender, about 1 hour.
Add the water, orange blossom water, and sugar. Bring to a simmer and cook until the liquid thickens, almost like a syrup. About 30 minutes.
Add the dried apricots, raisins, and dried sour cherries and allow to cook until tender, about 10 minutes. See note.
Add prunes and apple slices and let it simmer. Do not mix the prunes once added to the stew as they will break apart and darken the liquid. The prunes should be tender and the apples should be firm in the center but soft on the outside. 10 minutes.
Take off the the heat and sprinkle almonds on top.
Serve warm with a side of bread, such as kissra.
Notes:

Dried fruit cooking times can vary depending on variety, ripeness, chemicals added during the drying process...etc.
The stew gets thicker the next day as more of the sugars dissolve from the fruits into the stew.

Denotes items that we prefer to be organic. Read more about it here: Items to buy organic when grocery shopping.