Summer Jambalaya
As far as lore goes in American Cuisine, nothing compares to Cajun Bayou cooking. We will get to that in a second. First let me tell you about the first time I had Jambalaya.
On my first visit to New Orleans twelve years ago, I looked far and wide for Jambalaya that didn't have pork. I looked in the French quarter and outside of it with no success. So I had to make my own using merguez, fish, chicken and oysters. It tasted great, but it was not as authentic as I wanted it to be.
Last year I finally got my hands on turkey andouille, and that meant my jambalaya can be as close to authentic as possible. But since I never had the real jambalaya, I will let you be the judge. Drop me a note and let me know.
Okra, a summer vegetable is featured in our recipe because we wanted to add a vegetable to the protein rich dish. Okra is great, it softens and adds to the moisture without any overpowering flavor.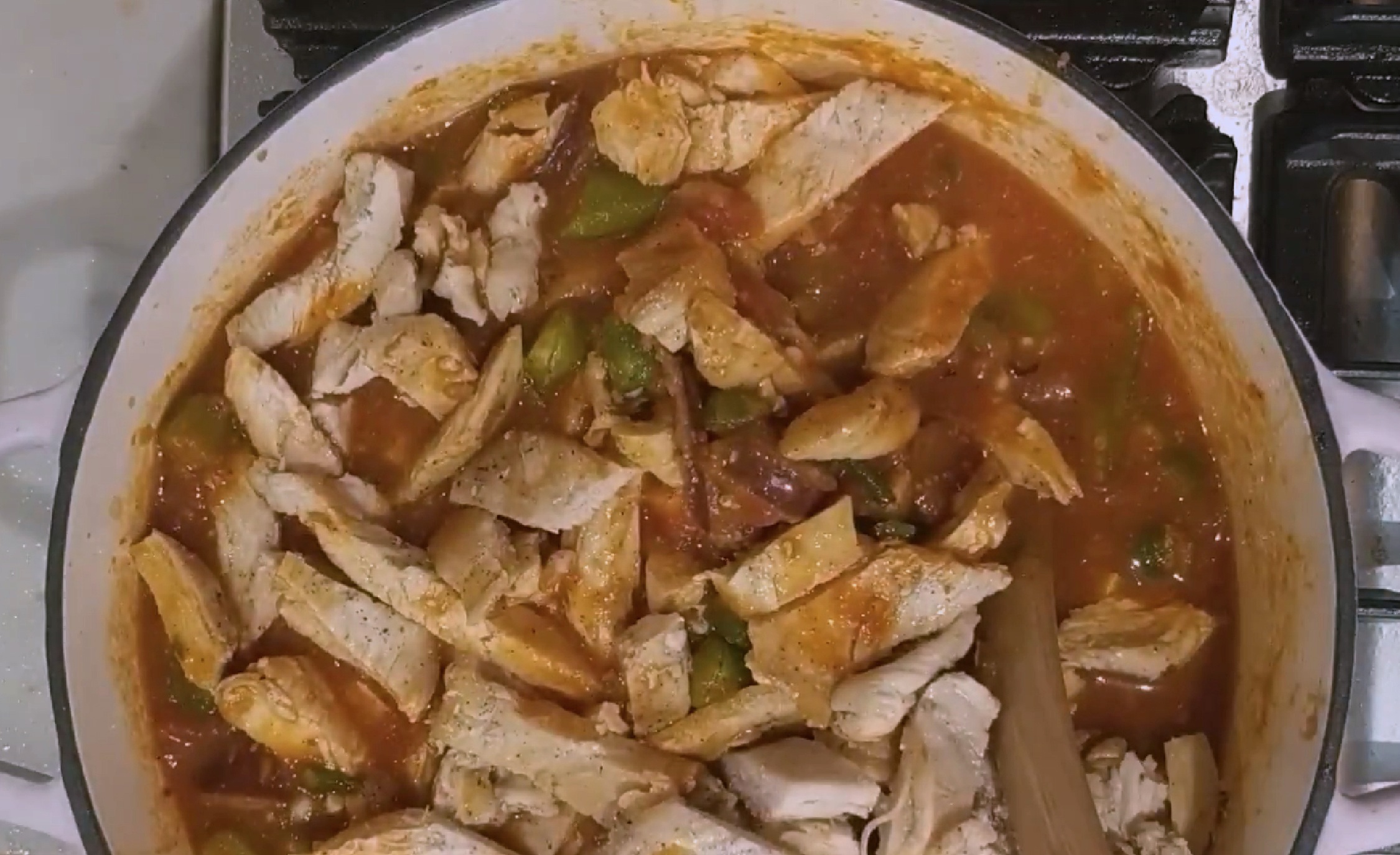 Big iron skillets were the original jambalaya cooking vessels. Layers of pork, other meats and oysters mingled with rice, onion and celery. Hot jambalaya was served with butter and parsley.
west african origins?
Reverend Robert Hamill Nassau wrote in his 1904 article "Fetishism in West Africa" that the most attractive native mode of cooking fish and meat is Jamba or "bundle". The meat is cut into pieces and laid in layers with salt, pepper, and some crushed nut and little water. All these tied up tightly in several thicknesses of fresh green plantain leaves, and the bundle is set on a bed of hot coals. The water in the bundle is converted into steam before the thick fleshy leaves are charred through. The steam unable to escape permeates the fibers of the meat, thoroughly cooking it without boiling or burning. The Acadians of the Bayou took this recipe, and used the ingredients and tools available to them to create the Jambalaya.
spanish origins?
According to the New Doubleday Cookbook of 1985, "Originally made with ham (its name comes from jamon, the Spanish word for ham)…"
Summer Jambalaya

You can substitute or add different types of meat or seafood. However, it is important to cook each appropriately to extract their layers of flavor without overcooking or undercooking.

by The Lore | April 2019

Prep time: 20 minutes
Cook time: 70 minutes
Total time: 1 hour 30 minutes

Servings: 12

Ingredients:

1 pound skinless, boneless pieces of chicken*
4 tablespoons duck fat*
3 medium onions, finely chopped
3 medium carrots, finely chopped
5 celery stalks, finely chopped*
10 garlic cloves, minced*
12 ounces turkey andouille sausage, cut into thin slices*
10 ounces of okra cut into small pieces
28 ounces crushed tomatoes *
5 sprigs fresh thyme*
1/2 parsley bunch finely chopped or processed*
3 bay leaves
Chili pepper to taste, start with ¼ teaspoon
32 ounces of low sodium chicken stock*
2 cups rice
12 ounces cooked Langoustine tails
Scallions cut into pieces for serving
Salt to taste

Instructions:

Season the chicken with salt and pepper, set a side.
Using a dutch oven or heavy bottomed pan, melt one tablespoon of duck fat.
Add the chicken and brown without cooking the chicken through.
Remove the chicken from the pot. Let the chicken cool then cut it into small strips or bite sized pieces.
Using the same dutch oven, add the remaining 3 tablespoons of duck fat and let it melt over medium heat.
Add the onions, carrots and celery. Saute until golden and almost brown.
Add the garlic, sausage and okra. Mix well and let it cook until the water from the sausage and okra evaporates and it starts to brown.
Add three tablespoons of the juice from the crushed tomatoes and scrape the bottom of the dutch oven to remove any fond. About 5 minutes. Add more juice if needed, one tablespoon at a time.
Add the thyme and parsley. Continue scraping and adding tomato juice one tablespoon at a time. About 5 minutes.
Add the crushed tomatoes and bring to a simmer.
Add the bay leaves, chili pepper and salt to taste.
Let the tomato sauce simmer on low heat for the next 20 minutes (or sooner if the water evaporates).
Preheat the oven to 350 F.
Add the chicken stock and bring it to simmer.
Add the rice and bring to simmer.
Cover the dutch oven and place in the oven.
After 15 minutes take it out of the oven and add the chicken. Mix and place back in the oven.
Cook for 15 more minutes or until the rice is cooked and most of the liquid is evaporated. It should be slightly wet as the rice will absorb more of the moisture and dry it out. (see note).
Add the langoustine and mix. Cover and let the hot jambalaya rest for 10 minutes before serving.
Serve warm with scallions and chilli pepper or harissa.

Notes: 1.If you plan to eat the jambalaya over multiple days then it should be slightly wetter as the rice absorbs more of the moisture over time.

Denotes items that we prefer to be organic. Read more about it here: Items to buy organic when grocery shopping.