Round Algerian Bread With Seeds (Kissra)
My grandmother used to make this bread every day. She would bring out her big wooden dough bowl (gass'a) gas, burner unit (taboona), terra-cotta tagine, freshly milled grains, salt bowl and big oil vat; rolls up her sleeves and goes at it. Rain or shine, the smell of freshly baked semolina dough would reach us while we were playing and as one we would run to the kitchen for some kissra. We didn't all eat kissra the same way. Some of us loved eating by itself, others with a tall glass of buttermilk on the side, and others dipped it in fragrant olive oil. These childhood memories come alive every time I have this kissra. It is soft bread with a hard shell and flavorful healthy seeds. It is my absolute favorite bread. I use it almost like a cracker or a baguette slice and slather whatever I am in the mood for on top of it. Try it with soft butter and honey, or olive oil and nigella seeds, sardines and tomatoes, hummus and sumac, anchovies and mascarpone, or cream cheese and harissa.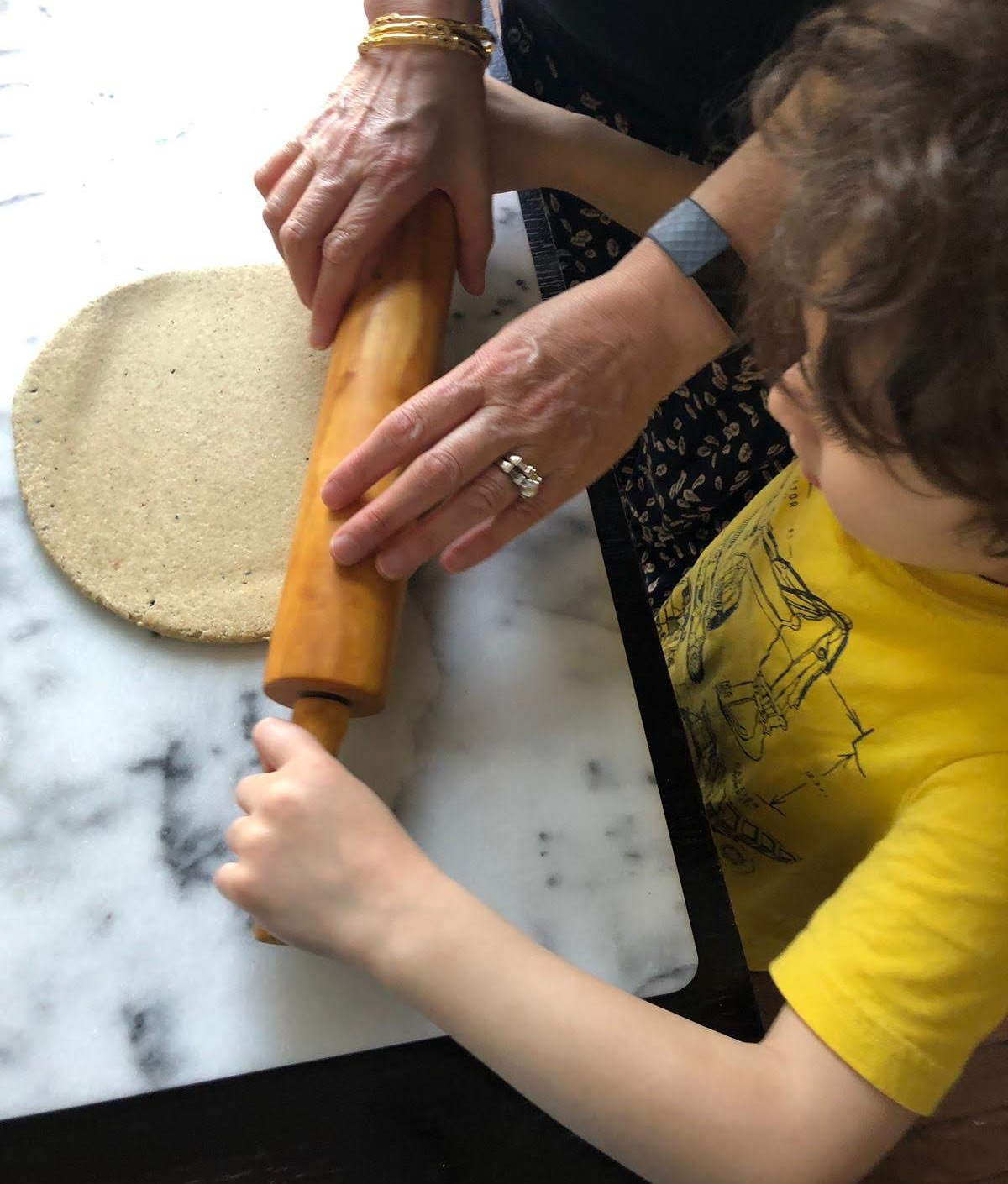 The addition of nigella seeds, anise seeds and toasted sesame seeds are a modification that my mom came up with and has been doing for years. She often makes kissra for us when we visit. The kids love helping too.
Algerian Round Bread (Kissra)

Most Algerians would agree that traditional kissra is made out of Semolina. Our recipe uses a combination of flours that add nutrition, flavor and texture. See notes for standing mixer instructions.

by Little G | April 2019

Prep time: 20 minutes
Cook time: 10 minutes
Inactive time: 30 minutes
Total time: 1 hour

Servings: 12

Ingredients:

2 cups fine semolina
1 cup coarse semolina
1 1/2 cups sprouted whole wheat flour
2 teaspoons salt
2 teaspoons ground nigella seeds
1 teaspoon whole nigella seeds
3 teaspoons ground anise seeds
2 teaspoons toasted sesame seeds
1/2 teaspoon instant yeast
1/3 cup olive oil
1 1/2 cups water at room temperature
Instructions:

Place all the dry ingredients in a medium mixing bowl. Whisk to mix all the flours and seeds.
Add the oil and mix well, rubbing the flour and oil between your hands until all the flour is moistened by oil.
Add 1 cup of the water and mix well. Slowly add the remaining half cup of water until your dough is formed. It should feel dense.
Cover with seran wrap and allow the kissra dough to rest for 30 minutes or up to 24 hours. The longer the kissra dough rests, the softer the dough becomes.
Place the rested dough on a clean surface and divide into three balls. Work each ball to smooth out any roughness and form a smooth ball, this step can take 2-3 minutes per ball. Place two of the balls back in the bowl and cover with the seran wrap.
Heat a flat iron cast-iron skillet at low-medium heat (see note).
Using your hand or roller spread the dough into a circle no thicker than ¾ of an inch. The thinner the dough, the crispier the kissra will be.
Place your flattened dough in the skillet to bake and prepare the next kissra ball. Keep checking on the kissra in the skillet, and turn it around clockwise to ensure even cooking and browning (all you have to do is push the Kissra gently).
Once the Kissra reaches the desired level of browning, flip it to the other side and repeat the shifting clockwise. It should take 5-10 minutes to bake each Kissra. The timing depends on the kissra, the humidity, the wetness of the dough and other factors. Let the color of the kissra be your guide.
Repeat with the remaining kissras.
Serve warm and store in a well sealed container or plastic bag.

Notes:

A cast iron skillet or round heavy-bottomed pot works best for even heat distribution and Kissra baking. Traditionally, a terra-cotta clay tagine is used for Kissra baking.
You can freeze the kissra for up to 6 weeks. The flavor of the seeds might diminish over time.
For a more authentic version, leave out all the seeds.
If using a standing mixer, you can do that starting in step 3, using a paddle extension. This is a relatively hard dough, not all standing mixers can handle it. We tested this recipe using a food processor, it breaks up the dough too much and we had to work it even longer with our hands.
Coarse semolina can be found at most Middle Eastern stores.

Denotes items that we prefer to be organic. Read more about it here: Items to buy organic when grocery shopping.