Shrimp Tacos & Toppings
I have a theory, certain foods will always transport you to the place where you have had them at their best. For me Shrimp tacos have that power; I had the best shrimp tacos in Mexico on a beach. The sound of the waves behind me, the breeze against my cheeks and the taste of slightly spicy, crunchy, and fresh tasting shrimp tacos in my mouth.
To get it just right don't compromise on four ingredients: fresh wild-caught shrimp, ripe tomatoes, fresh cabbage, and your favorite tortillas (if you like flour tortillas, stick to that). Peel and devein the shrimp yourself, it is a surprisingly quick and easy process.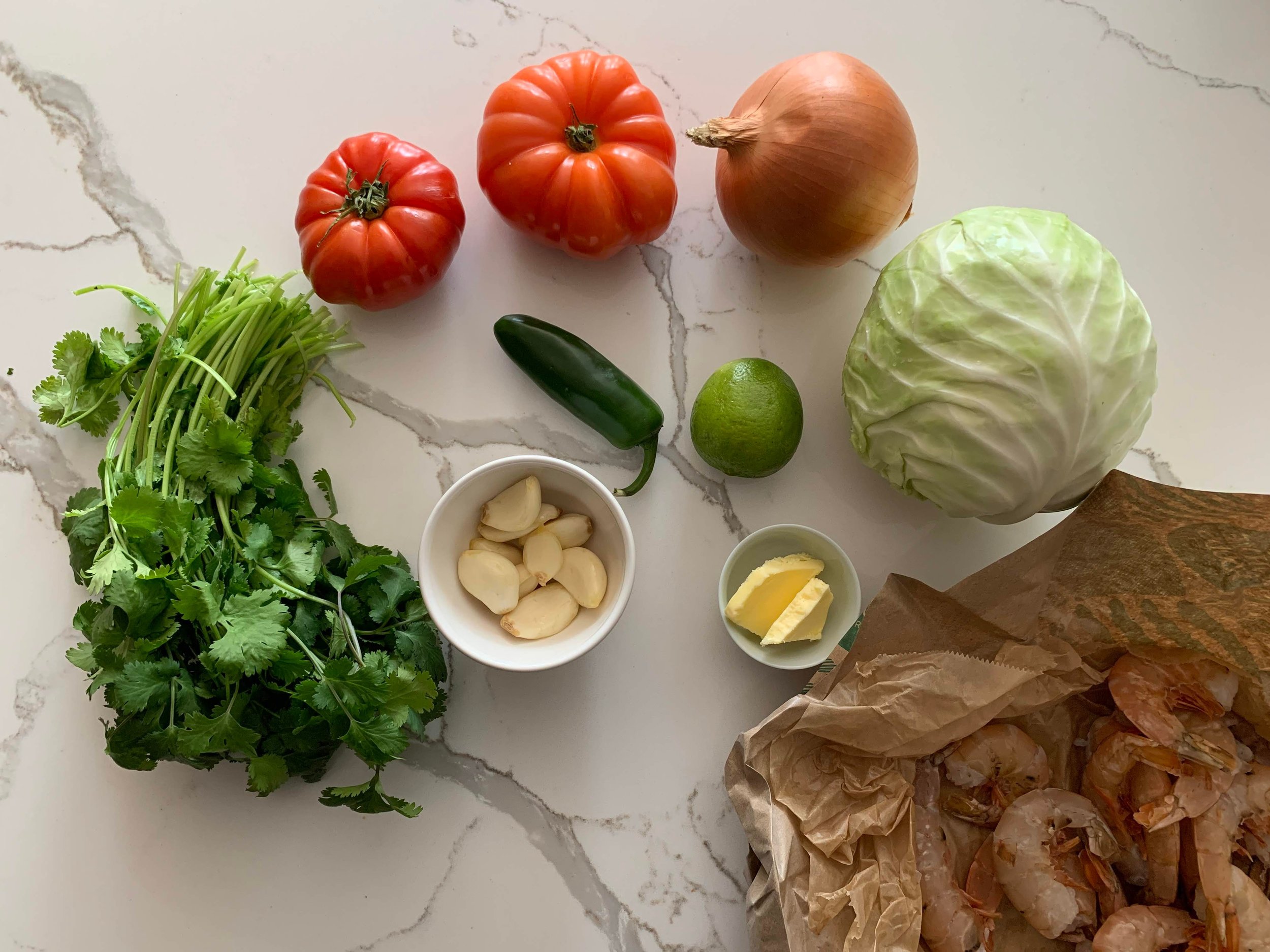 We can't stress how important it is to use fresh never-frozen wild-caught shrimp. The flavor is really different. The price can be higher, so opt for less pieces of shrimp instead of lower quality.
Shrimp Tacos

The ingredient list might look long but most of it can be found in your fridge. Go for the freshest shrimp you can find for the best flavor.

by The Lore| May 2019

Prep time: 20 minutes
Cook time: 20 minutes
Inactive time: 0 minutes
Total time: 40 minutes

Servings: 6

Ingredients:

Shrimp Tacos

1 tablespoon oil
1 medium yellow onion, finely chopped
4 medium tomatoes, peeled and finely chopped *
3 cloves garlic, minced *
½ teaspoon cumin
1 teaspoon salt
⅛ teaspoon chili pepper
2 tablespoons butter *
1 pound raw shrimp, peeled and deveined
2 tablespoons cilantro, chopped*
Salt and pepper to taste

Cabbage Salad

1 medium green cabbage, thinly sliced
1 lemon, juiced and zested
3 garlic cloves, minced
2 tablespoons cilantro, minced *
Salt to taste

To Serve

12 corn tortillas
12 ounces Chihuahua, Monterey Jack, or mild cheddar cheese, grated *
3 limes cut into wedges
2 Avocados sliced
2 tablespoons cilantro leaves or chopped

Instructions:

Shrimp Tacos

Heat the oil in a medium skillet over medium heat.
Add the onion and saute until the onion pieces start to brown slightly
Add the tomatoes, garlic, cumin, salt, and chili pepper. Stir until the mixture starts simmering.
Add the butter.
Lower the heat, cover and let it stew until the tomatoes completely dissolve. About 10 minutes.
Uncover, add the shrimp and mix. Cook for 10 minutes.
Add the cilantro and salt and pepper to taste. Mix and remove from the heat.
Serve hot or at room temperature.

Cabbage Salad

Mix the cabbage, lemon juice, lemon zest, garlic and cilantro in a medium bowl. Add salt to taste.
Serve cold or at room temperature

To Serve

Serve the shrimp hot or at room temperature. All other components should be served in individual plates so the tacos can be assembled according to individual preference.

Notes:

We recommend using wild-caugh, never frozen shrimp for optimal flavor and texture.

Denotes items that we prefer to be organic. Read more about it here: Items to buy organic when grocery shopping.