Fig & Garlic Chevre Savory Salad
In Algeria, figs are a major summer fruit. You can find fruit stands on most national roads where figs appear from June to October. In this fig & garlic chevre savory salad recipe we combined two Algerian recipes, a winter dried figs and garlic in olive oil recipe with a summer classic: watermelon and cheese recipe. Both are simple and our grandmother swears by their medicinal power. Together, however, this recipe becomes a luxurious summer meal.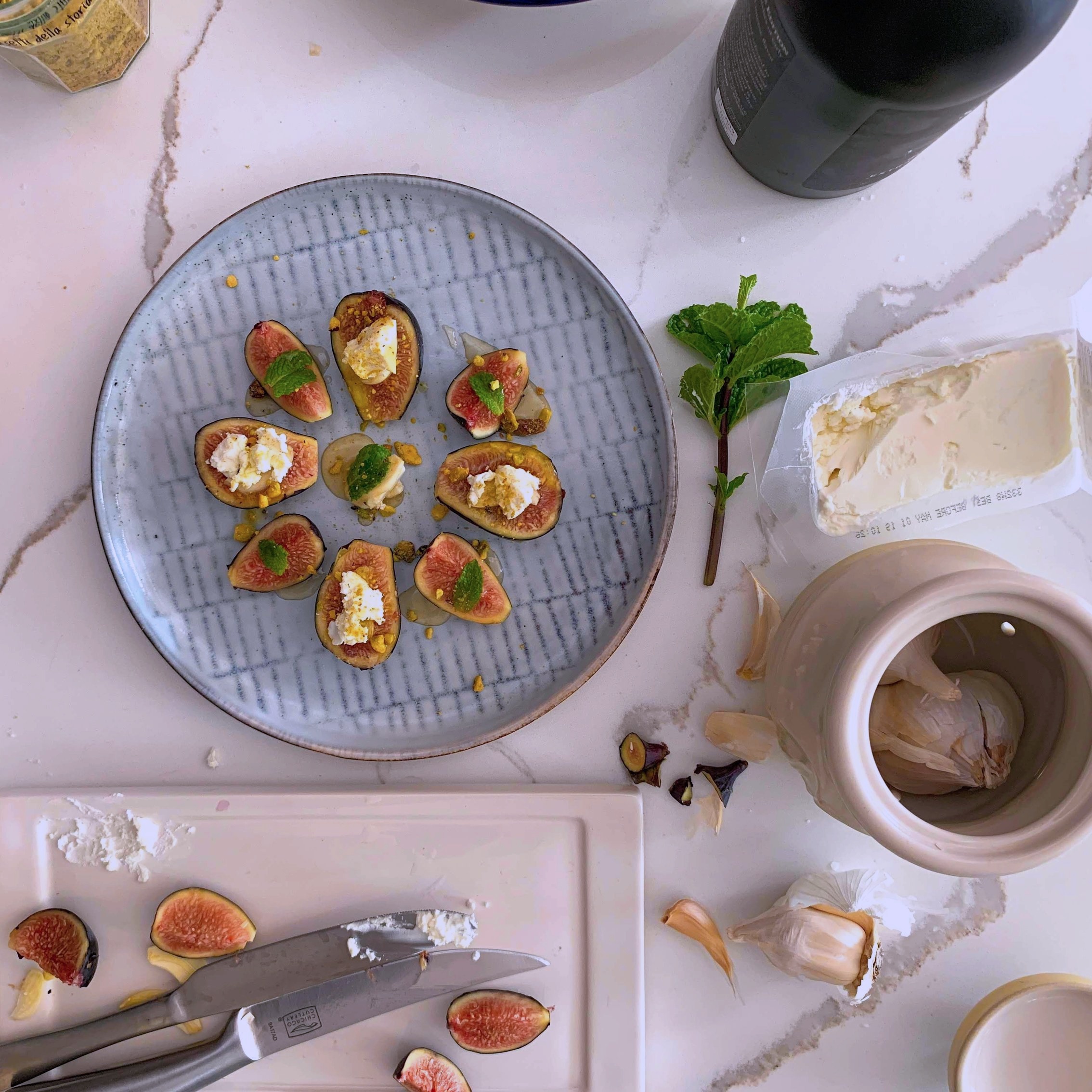 Chevre is a french goat cheese. In recent years there has been an increase in the variety of goat cheeses available in most grocery stores and supermarkets. Even bodegas carry Vermont or California goat cheese varieties. Chevre means goat in French, but it refers specifically to the soft cheese usually packaged as a log.
Fig & Garlic Chevre Savory Salad

by The Lore| April 2019

Soft, ripe, sweet figs are ideal for this recipe. You can substitute fresh oregano for mint.

Prep time: 15 minutes
Cook time:
Total time: 15 minutes

Servings: 1

Ingredients:

3 medium fresh brown figs, washed and dried
2 tablespoons chevre cheese*
1 medium clove garlic*
1 tablespoon excellent olive oil*
Sea salt to taste
5 small mint leaves*
1 tablespoon honey
1/2 tablespoon pistachio, lightly chopped

Instructions:

Cut two of the figs in halves and one in fourths.
Thinly slice the garlic, you will only need 5 slices. They should be almost translucent.
To assemble: pleace the four fig halves on the plate. Top each fig with one slice of garlic, followed by the chevre. Drizzle olive oil and some sea salt on each fig-half.
Take the remaining fig quarters, place them between the halves, top each quarter with a mint leaf. Drizzle with honey.
In the middle, put the remaining chevre, top with a garlic slice, followed by a mint leaf. Drizzle with honey.
Sprinkle the pistachios over everything.
Serve cold or at room temperature.

Notes:

An alternative to fresh garlic is lightly baked garlic. You can bake a whole head in a 350 oven for 30 minutes. You can use the leftover garlic to spread on toast or mix with hummus. Try it with fresh oregano as an alternative to mint (which can cause heartburn for some people).

Denotes items that we prefer to be organic. Read more about it here: Items to buy organic when grocery shopping.