Algerian Stuffed Pastry (Mhajeb)
Nothing takes me back to summer time in Algeria than Mhajeb (or Mahajeb). The ultimate snack after spending the day at the beach. I can hear the sounds of children playing and the feeling of the late afternoon sun beating on my face as I make these at home. I can see the vendors walking up and down the shore carrying baskets of mahajeb with thermoses full of hot tea. What makes these so popular? Mahajeb are extremely versatile and a great snack or substitute for a sandwich on the go. Made from semolina and fashioned into layers, they are a vessel for all types of yummy fillings.
Hand pies? Pastry? Bread? QUESADILLA? Crepe?
When translated to English, the word Mhajeb is derived from the word "covered" in Arabic. To someone who has never seen or tried Mhajeb, the name alone does not offer many clues. How would you name Mhajeb in today's explicit-names culinary culture?
Traditionally, Mhajeb are made with simple tomato and onion mixture and cooked over a hot stove. In Algeria, you'll find street vendors everywhere making them right on the grill. It's quick, cheap, and hits the spot every time. Stories passed down through the generations say that mahajeb were once considered food for the poor. They are commonly made in the spring after the wheat harvest when semolina is readily available and tomatoes and onions are in season and affordable to most. In the past, bakers would add meat fat to the mhajeb to make them more substantial. Nowadays, most people no longer include the fat but the process is still very much the same. The dough is made and left to rest while the filling is prepared. While traditional mhajeb are usually filled with sauteed onions and tomatoes, here at The Lore, we love experimenting with new flavors. Of course we made the traditional mhajeb, but then also did several with our own twist!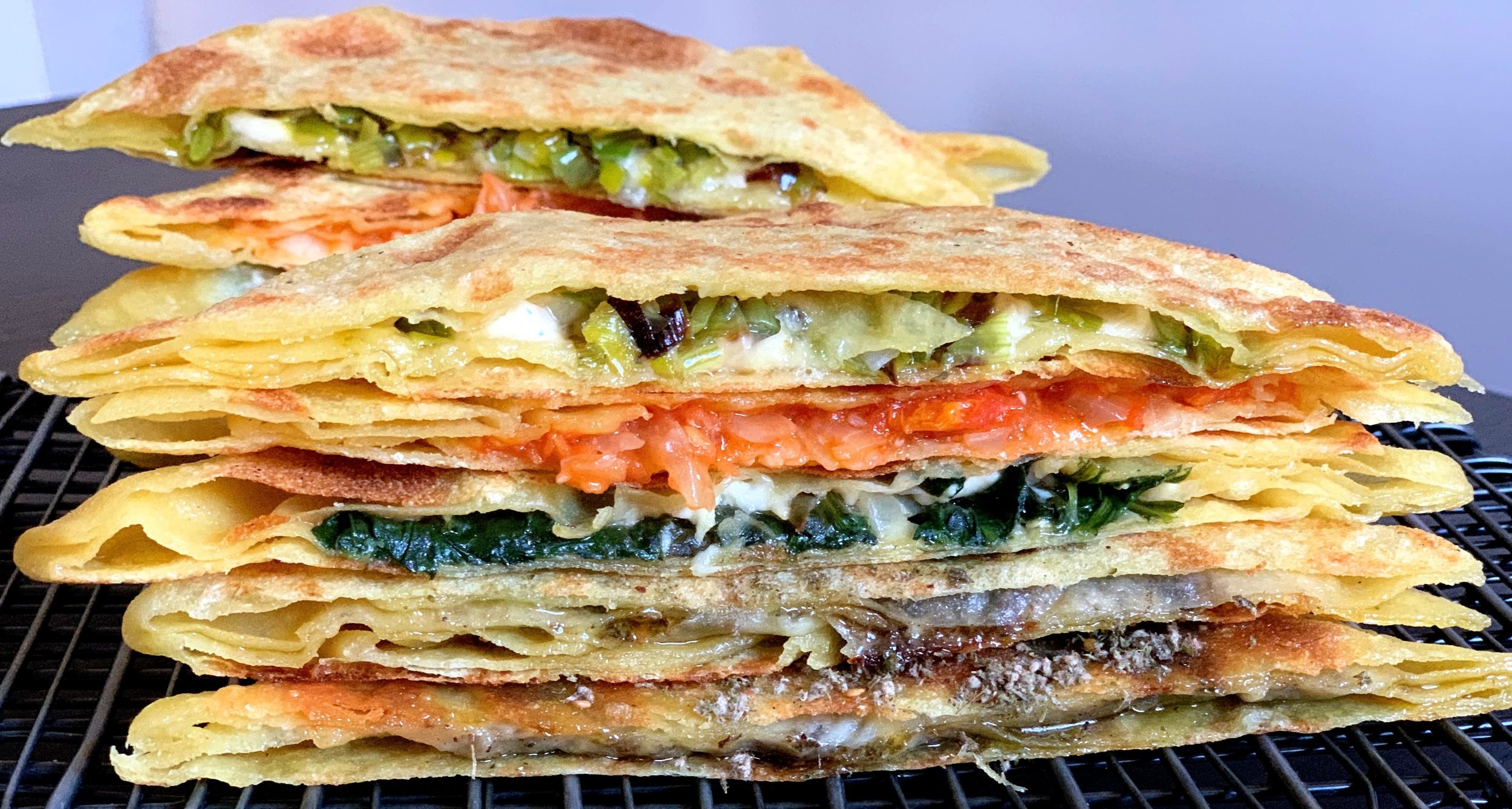 Leeks with gruyere, tomatoes with onions, spinach and feta, eggplant and cheddar, zaatar and mozzarella.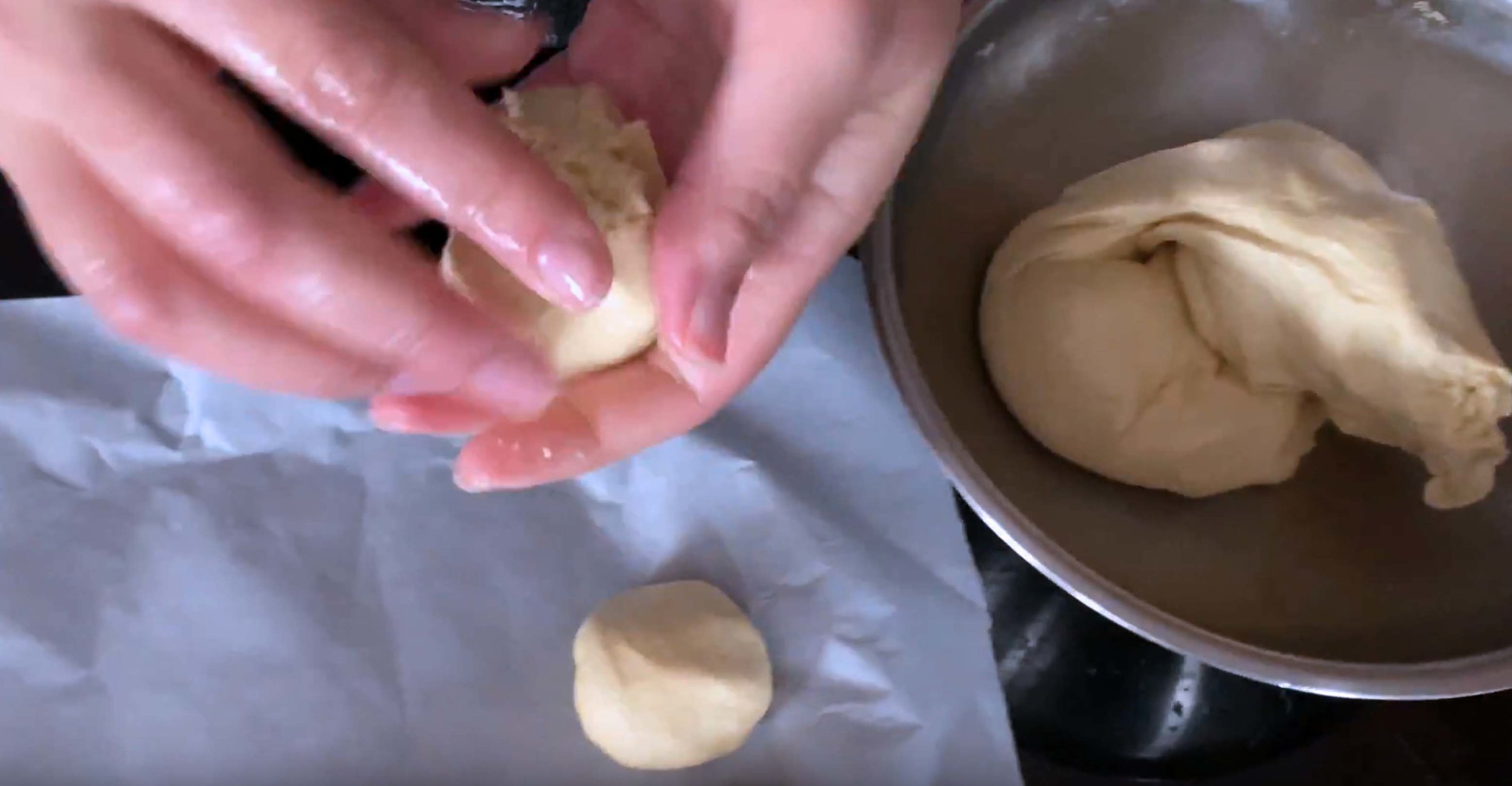 Algerian Stuffed Pastry (Mhajeb)

by Sakina | April 2019

This recipe can be done in a stand mixer or by hand. We encourage everyone to first try kneading the dough by hand so that you know what kind of texture you need for the next time you make mahajeb (because we know you'll be making this more than once).

Prep time: 45 minutes
Inactive time: 90 minutes
Cook time: 45 minutes
Total time: 3 hours

Servings: 16 pastries

Ingredients:

Dough:

32 ounces or 900g of fine semolina, (about 4 cups)
2 1/4 cups water at room temperature
1 tablespoon salt
3/4 cup vegetable oil

Filling:

1 onion, chopped
2 tomatoes, chopped *
1 teaspoon salt
1 tablespoon olive oil

Instructions:

In a large bowl mix the semolina and salt.
Add water in stages, slowly incorporating it into the semolina until a dough forms.
Once you've added all the water, start kneading on a clean surface.
Knead your dough until it's soft, it should not be wet but make sure it's not dry and bumpy. You want a smooth dough so continue kneading it until it is smooth and soft.
Shape dough into a ball and place in bowl, cover with plastic and let rest for 30-45 mins.
While the dough rests, make the filling by heating a skillet, adding the olive oil and sautteeing all the ingredients on medium heat until soft and the liquid has dried out. Let it cool.
Lightly coat a plate or baking sheet with oil or line with wax paper.
Dip your hands in canola oil and start cutting pieces out of the dough. Shape into balls. You should end up with 9-12 balls.
When all the dough has been made in balls, cover with Saran Wrap and let the dough rest for an additional 45 mins.
Heat up a griddle, or cast iron skillet.
Spread some oil on a kneading surface. You'll be using it to make the mhajeb. Take a ball of dough and slowly spread out dough using a flattening and pulling motion with both your hands. Your hands should also be wet with oil but not dripping.
Once the dough is thin enough, almost to the "see-through" point, fold two sides towards the middle, bringing two points of the circle to meet in the middle (see images in the gallery above).
Place a tablespoon of filling then fold again making a square.
Push down lightly on the sides so the filling does not leak out of the sides.
Place on a griddle. Flip once golden brown, about 5 minutes. Cook for another 5 mins on the other side and remove.
Serve warm.

Notes

You can play around with fillings. We tried the following combinations: sauteed leeks and gruyere cheese, sauteed spinach and feta, grilled eggplant caviar with cheddar and zaatar with mozzarella.
We love Bob's Red Mill fine durum semolina.
3/4 of a cup of oil is rough estimate. You will need it to help you handle and open the dough. You might need more or less, precision in this step is not important.

Denotes items that we prefer to be organic. Read more about it here: Items to buy organic when grocery shopping.