Orange Strawberry Tart Recipe
There was once a time when oranges were coveted and dear, when even children would wish to receive one for Christmas. I must admit, I do have periods of fascination and nostalgia for the simpler days of the past. However, when I think of the modern amenities of today, such as medicine and airplanes, I'm normally cured of such sentiment. Moreover, I'm glad that the scarcity of oranges is something we don't have to contend with in today's society. I can make this orange tart recipe whenever and wherever I want!
Today, the variety of oranges you can find in grocery stores and farmer's markets is a source of constant wonder and joy. For this orange tart recipe, you can use any type of orange. However, we recommend that you use Navel oranges for the zest. This is because the zest of other varieties can be bitter.
Navel, Valencia, Cara Cara and Blood oranges can be found in almost every major supermarket in America. And if you look closely during the months of February or March, you might even find some Mango Oranges, Marrs, and other Heirloom varieties. Try them all! They each vary in their flavor, color, texture, smell, and even the taste of their zest.
While oranges are the highlight of this dish, our orange tart recipe also features freeze-dried strawberries which add just a bit of tang. It's the perfect treat to have alongside an inviting cup of tea or coffee.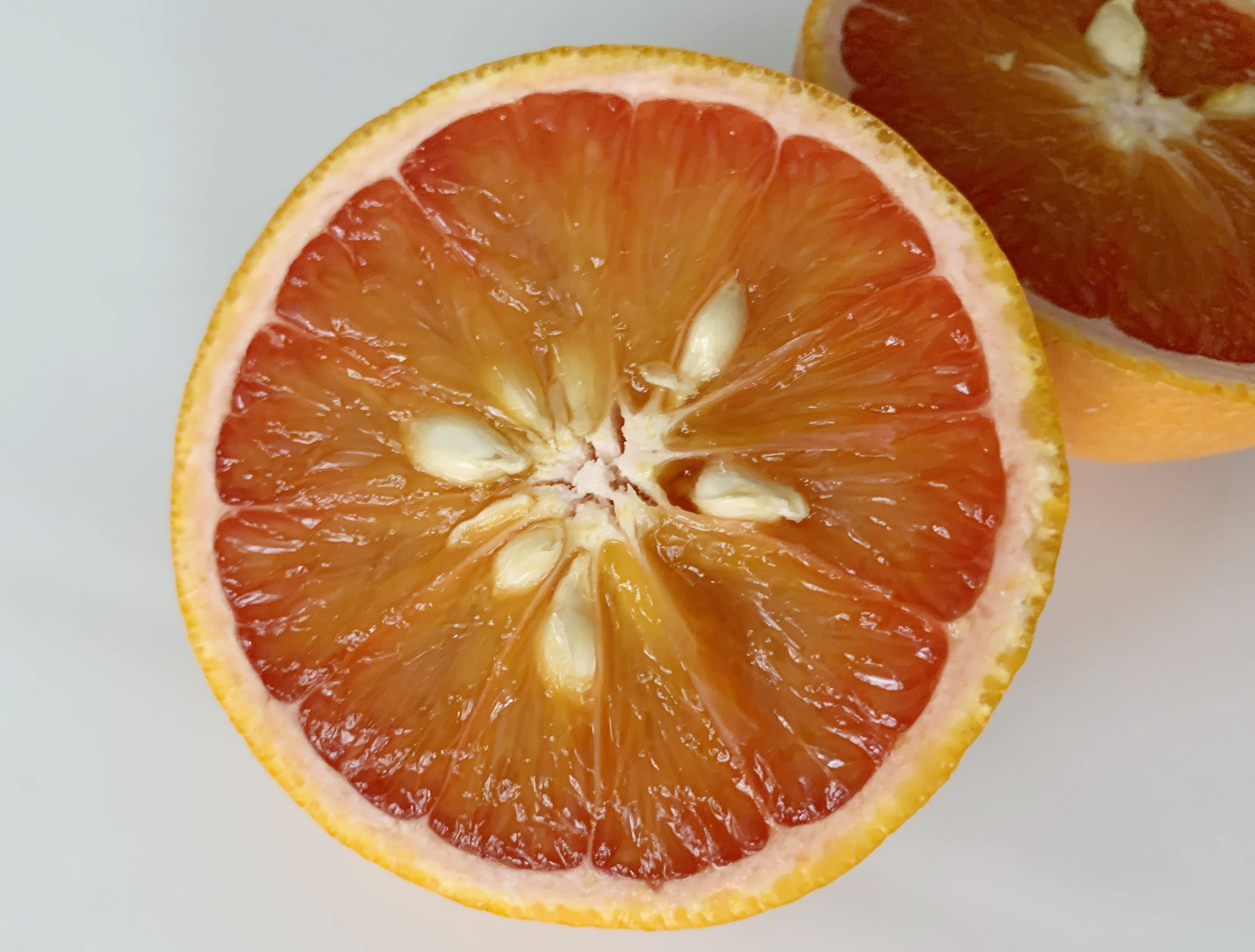 The oranges here are called Mango oranges. They are sweet and slightly floral.
The Bar vs. The Tart
At The Lore, we have two sides in the bar vs. tart debate:
Team 1 believes that the only difference between the two is whether the crust comes up the sides or not. A tart has crust up the sides, bars have crust only on the bottom.
Team 2 believes that the fundamental difference is in the dough. Tarts are made using cold butter and some water, and their dough requires rolling. Bars don't.
Which side are you on?
For this orange tart recipe, use either type of crust for a buttery, delicious result!
No Skimping On Shortbread
Our orange tart recipe results in a tart with an equal ratio of crust to filling (meaning both are 1/2 inch thick). However, if you prefer a thinner crust (1/2 the ratio of the filling), leave some of the dough aside and use it to make cookies. Roll one tablespoon of the dough into balls and flatten them for a rustic look. Bake them on a cookie sheet lined with parchment paper along with the tart/bar crust.
You can make the exact ratio of crust to filling by controlling the thinness of your crust.
Orange Strawberry Tart

For this recipe, we combined freeze-dried strawberries with oranges to add a little bit of tang. We found that since oranges tend to have a very sweet, flowery flavor when used in baking, freeze-dried strawberries add just the right amount of zippy-ness to round out the flavor.

by The Lore | March 2019

Prep time: 25 minutes
Cook time: 45 hours
Total time: 1 HOUR 10 MINUTES

Servings: 8

Ingredients:

Crust

1 cup and 2 tablespoons all-purpose flour (6.5 ounces, 185g)
2 tablespoons sugar (40g)
1/2 teaspoon salt (4g)
9 tablespoons unsalted butter, melted* (4.5 ounces, 124g, 1 stick plus 1 tablespoon)
Zest of one medium or large navel orange*

Filling

3/4 cup sugar (5.30 ounces, 150g)
2 tablespoons all-purpose flour (18g)
4 eggs plus 2 egg yolks*
Zest of one navel orange*
One blood orange
1/2 cup freeze-dried strawberries* (see note)
1/4 teaspoon salt
Optional: powdered sugar, orange slices and orange zest for garnish

Instructions:

Preheat the oven to 350ºF. Adjust the oven rack to the middle (or lower middle) position.
If you are making bars, line an 8-inch square baking pan with parchment paper and set aside.
If you are making a tart, lightly spray a tart pan with oil spray or lightly grease with oil.

Crust:

Combine all the crust ingredients in a medium bowl and mix with a spatula or your hands until well combined.
Place the dough into your prepared pan and press evenly onto the bottom and up the sides (see note).
Bake until golden, about 20 minutes.

Filling:

Prepare the blood orange by peeling it, removing the white pith, and taking out all the seeds.
In a blender, place all the ingredients and blend until silky-smooth. Scrape down the sides and blend again. Repeat as needed.
Place the mixture in a medium saucepan. Over medium heat, stir the mixture continuously until it starts bubbling and thickening, about 8 minutes.
Remove from the heat and pour the mixture back into the blender and blend again until very smooth. Scrape down the sides periodically.
Pour the filling over the baked crust and return to the oven. Bake for 15 minutes. The filling will be jiggly but will harden as it cools.
Cool completely in the pan for up to 2 hours.
If you made bars: lift up the parchment paper and pull the bars out of the pan. Cut them on a cutting board. Wipe the knife with a clean towel after each cut for a sharper look.
If you made a tart: the first slice is always the hardest to cut and take out. Once it is removed, you will have more space to maneuver, and the other pieces will come out more easily. Wipe the knife with a clean towel after each cut for a sharper look.
Garnish with slices of oranges or strawberry and a dusting of powdered sugar before serving.

Notes

A note on our crust: we love an equal ratio of crust to custard. If you like a thinner crust, remove four tablespoons of the dough and make cookies to bake alongside the tart.
Freeze-dried strawberries can be found at Trader Joe's or Aldi. You can omit the strawberries for a lighter colored custard with a purely orange flavor. If you are looking for an alternative way to add a more zippy tang to the custard, we suggest either 2 teaspoons of cream of tartar or one half of a lemon, peeled and the seeds removed.
Through testing, we have found that the zest of some blood oranges can be bitter, which is why navel orange zest is recommended. Taste your zest before using it.

Denotes items that we prefer to be organic. Read more about it here: Items to buy organic when grocery shopping.