Burrata Herbs and Olives Salad
The perfect lunch plate
In the springtime, this burrata and herbs salad recipe is a staple in my house. It's rich, creamy, and fragrant. When I first had it at the Washington, DC restaurant Elle, I was so inspired that I went out just a few days later and grabbed all the ingredients needed to make my own. Simply said, I was hooked and still am.
This burrata and herbs salad recipe is everything I look for in a delicious, satisfying salad. It possesses an abundance of cheese, flavorful herbs, and a delightful saltiness that comes from the olives. Over time, I've discovered the cheese options that work best for this recipe: either burrata or farmer cheese. Both provide the ideal amount of creaminess and tang — the perfect backdrop for all the different textures and flavors of this burrata and herbs salad.
TASTY, NUTRITIOUS, & VERSATILE
Though it's a pleasure to eat, this burrata and herbs salad isn't just a tasty combination that will please your taste buds. Making it is also a great opportunity to take advantage of the gorgeous spring weather and browse the tables of your local farmer's market. There you will find all of the ingredients that you need for this recipe. From the herbs to the olives to the cheese, buy them fresh, local and organic to experience the best version of this salad.
Serve your burrata and herbs salad as a meal — its great as either a lunch or dinner. Transform it into an appetizer. Create hors d'oeuvres by piling the burrata and herbs salad high on top of crusty pieces of baguette!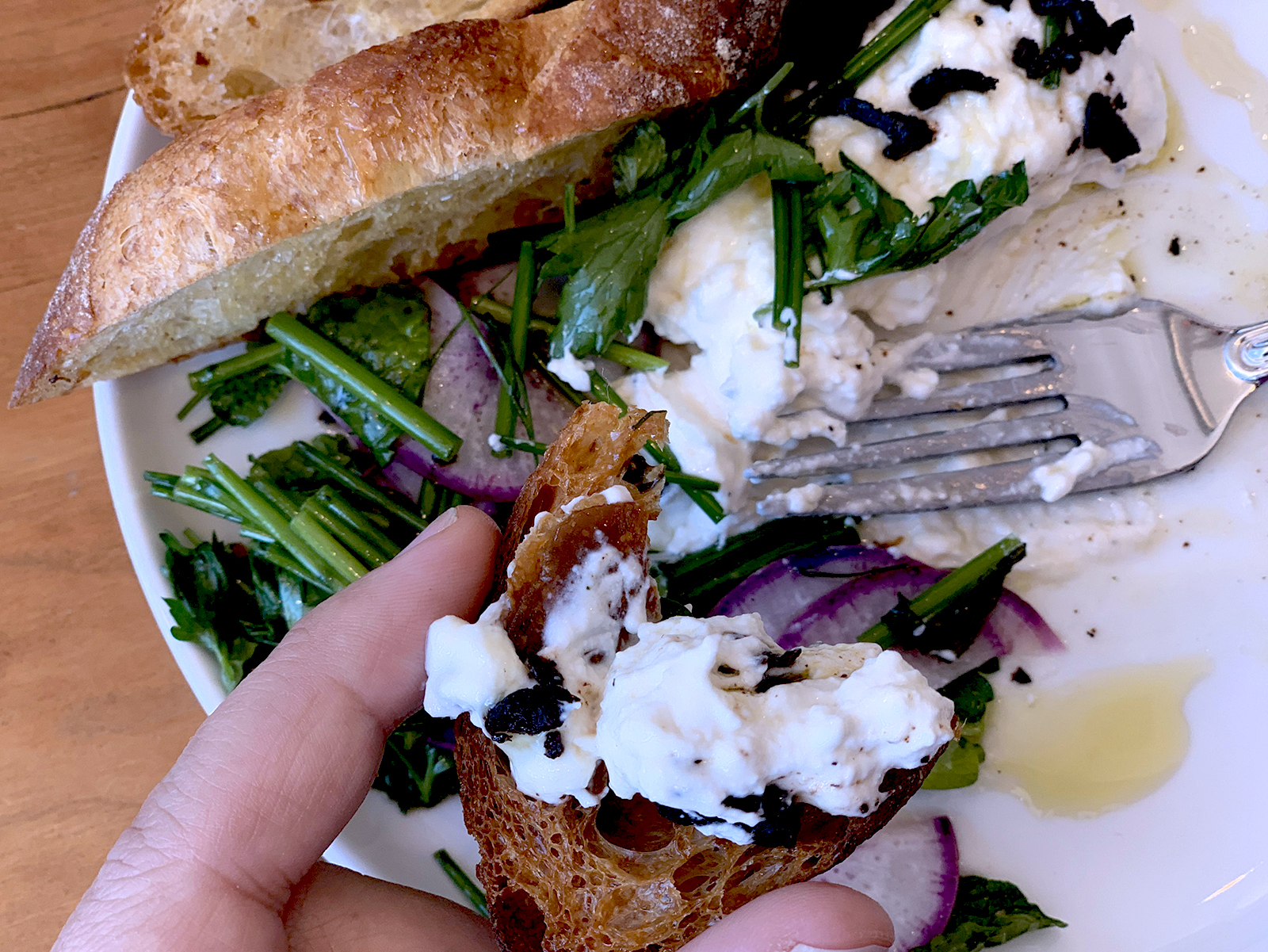 In this area [in Puglia] are many masserie, ancient, large farm houses and buildings where you can still buy the traditional regional cheeses. An unusual one is burrata, a pear shaped sheep's cheese which encloses a lump of fresh, sweet butter. When you cut a slice you get butter and cheese all in one.
- LORENZA DE 'MEDICI
WHAT IS BURRATA?
If you search any of the classic Italian cooking books (The Talisman, The Essentials of Classic Italian Cooking, The Silver Spoon) you won't find a single recipe featuring burrata. This is because, in the world of Italian cooking, burrata is a relative newcomer. It originated in the town of Andria in the Puglia region of Italy in the 1960's. Burrata is a creamy mixture of mozzarella and cream that is stuffed into a stretched mozzarella pouch. To learn more and see burrata being made in action, check out this video from the Culinary Institute of America.
Some say that the original burrata was made as a means of utilizing scraps of mozzarella. The burrata is sometimes wrapped in asphodel leaves. When you go to a grocery store, you can find it stored in brine.
Burrata Cheese and Herbs Salad

by Soumeya| March 2019

The perfect meal for springtime, this recipe is a delicious combination of fresh cheese, fragrant herbs, salty olives, spicy olive oil, and toasted bread. Replace olive oil with honey for a sweet-savory combination.

Prep time: 15 minutes
Cook time:
Total time: 15 minutes

Servings: 1

Ingredients:

Baguette bread slices
4 ounces burrata or farmer cheese*
8 stalks fresh flat leaf parsley, cut into 1/2 pieces*
6 chive stalks, cut into 1/2 inch pieces*
4 radish slices
8 kalamata or beldi olives, pitted and cut into small pieces
1 tablespoon olive oil
1 tablespoon lemon juice
Olive oil to drizzle
Salt to taste

Instructions:

Toast the bread in a 300 F toaster oven for 5 minutes or until golden brown.
While the bread is toasting, make the vinaigrette for the herbs. Using a fork, whisk the olive oil and lemon juice in a small bowl. Add some salt to taste.
Place the parsley, chives, and the radish slices in the same bowl and coat well with the vinaigrette.
Fold two kitchen paper towels twice until you have a square. Place the square paper towel on a plate and set the burrata cheese on top. Let it sit for 5 minutes. This step is necessary to soak some of the water that is found in fresh burrata.
To plate, place the toasted baguette slices and the burrata side-by-side. Slightly cut through the top of the burrata to expose its creamy center. Top the burrata with the herbs and radish mixture. Sprinkle the olive pieces over the plate.
Drizzle with olive oil. Salt to taste. Enjoy!

Notes

You can experiment with a multitude of flavors that will complement the burrata. Add sprinkles of black seed, toasted sesame or toasted spicy chickpeas.
Try it with fresh oregano as an alternative to mint (which can cause heartburn for some people).

Denotes items that we prefer to be organic. Read more about it here: Items to buy organic when grocery shopping.