Beef Stew and Freekeh
…a match made in foodie heaven
A little beef goes a long way in this recipe. The Freekeh which is protein rich; has 15g of protein in one serving. That's more than the protein in the same size serving of chicken thigh. The nutritional profile of freekeh is why most people try it for the first time. It has a distinct flavor and aroma. The best way to describe it is, if you have ever smelled fresh wheat or barley, or even flour with a little bit of water, freekeh smells like that but stronger.
Freekeh can be polarizing figure, you either love it or you hate it. It has a strong wheat odor that most people either embrace or just can't stand. There is very little room in between. Nutritionally speaking, however, it is one of the more superior heritage grains and has more protein than lentils.
Because of its strong flavor, there aren't many herbs or spices that you could add to compete with it. In our test kitchen we are currently playing with these two freekeh flavor profiles: toasted freekeh with truffle and cheese, and freekeh with citrus and cardamom. Stay tuned for results (and if you have suggestions for flavor combinations that you have tried leave us a comment below or drop us a line).
Finely chop the onion and mince the garlic.
Bring your stock to room temperature if it is chilled.
Examine your freekeh and remove any foreign objects such as small stones and dry stalks.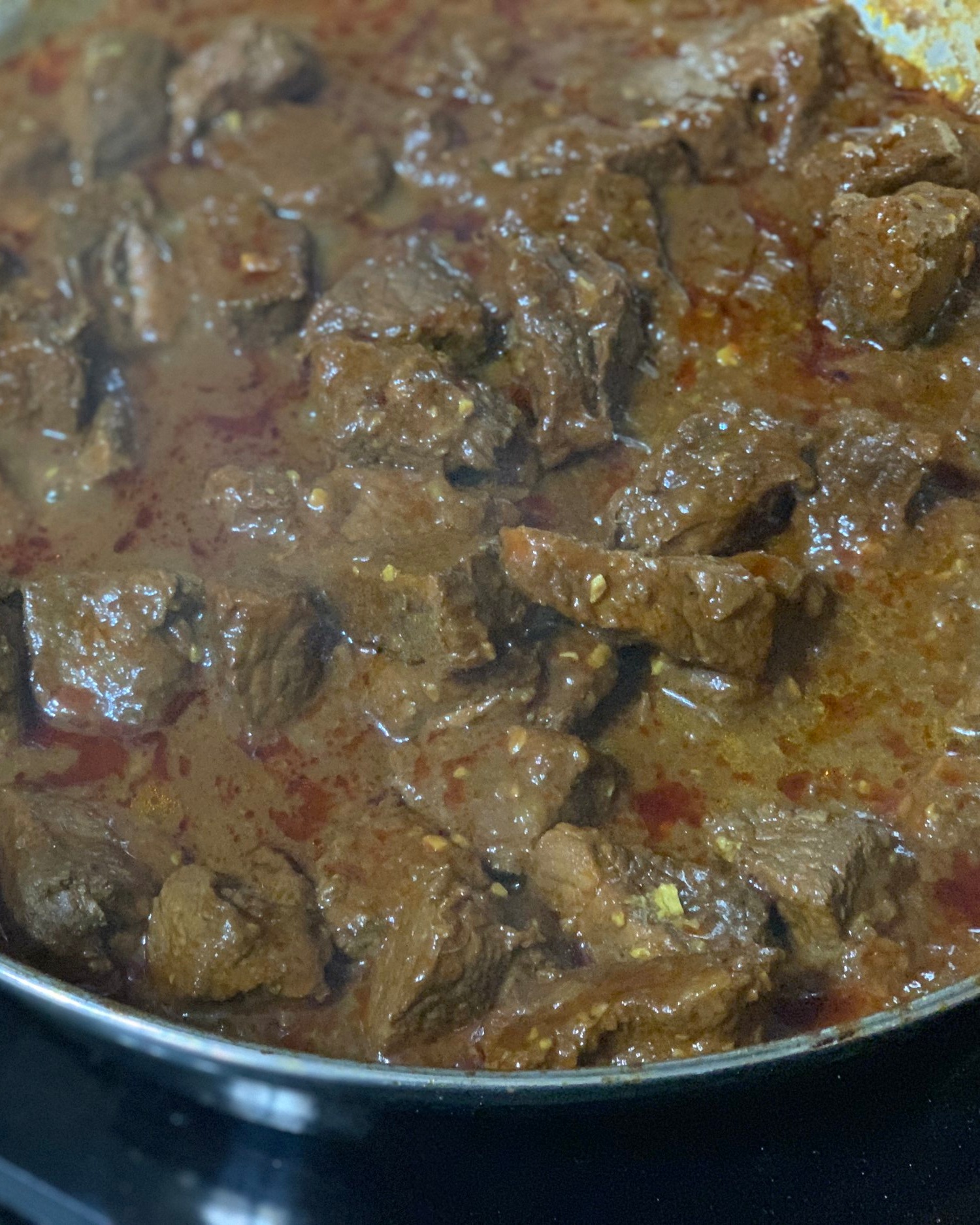 How done should the meat be before you can add the freekeh?
For the average stew cut, it will take 2-3 hours before the meat is tender enough for freekeh to be added. Freekeh takes less than an hour to cook, so cut through your meat to test its tenderness as soon as you heat the 2 hour mark.
A good friend made this freekeh for us on a cold Virginia Saturday. The aromas of the spices and onions hit us early on so when the fourth hour came around we were more than ready to dig in. Give your meat time to cook and become tender. A pressure cooker would cut the time drastically... but time is not always the most important thing. Sometimes slow cooking is just the perfect antidote to a dreary winter day.
One-pan beef stew freekeh

by Sakina | January 2019

Prep time: 15 minutes
Cook time: 4 hours
Total time: 4 hours 15 minutes

Servings:

Ingredients:

2 tablespoons vegetable oil
2 pounds beef chuck roast meat cut into 1-1.5 inch cubes
1 medium white onion, thinly sliced (or cubed)
7 garlic cloves, minced
2 tablespoons tomato paste
2 teaspoons turmeric
1 teaspoon black pepper
3 cups freekeh
6 cups warm low sodium vegetable broth or water, extra if needed
salt to taste
Optional: Harissa to taste, I add 1 teaspoon for very mild heat that adds depth to the flavor

Instructions:

Dry the beef with paper towels and season with salt and pepper.
In a large heavy bottomed braiser or dutch oven, heat oil over medium heat until shimmering.
Add the beef to the oil and brown on all sides, about 10 minutes.
Add the onions and continue cooking until the onion is translucent, about 10 minutes.
Add garlic, tomato paste, turmeric, black pepper, harissa and mix well for 2 minutes. Scrape off anything that sticks to the bottom of the pan.
Add 4 cups of broth to the pan and stir well.
Let it come to a simmer before you cover it and let it braise for 2 hours. The broth should be cooking at a slow, steady simmer the entire time.
Periodically stir and check the meat for tenderness and doneness and lower the temperature if necessary. We don't want the meat to dry out since it will cook an additional 30-45 minutes with the freekeh.
While the meat is cooking, rinse the freekeh multiple times until the water clarifies (it won't be 100% clear). Let it soak until ready to use.
When the stew meat is almost done (test it for softness), add salt to taste.
Drain the freekeh and add it to the stew.
Add the remaining two cups of broth.
Bring it to simmer and cover the pot.
Let it cook for 30-45 minutes or until it reaches the level of tenderness you desire.
The freekeh will absorb the liquid. If the stew is completely absorbed before the freekeh is cooked add 1 cup warm broth or water, mix well, and cover. Repeat as necessary.
Serve warm.

Notes

If using broth instead of the water, don't add the salt until the end.
Any freekeh that rise to the top are usually hollow and can be thrown out.
Add more warm broth or water if the stew starts to dry out before it is done.
We prefer our freekeh cooked well, soft like rice.